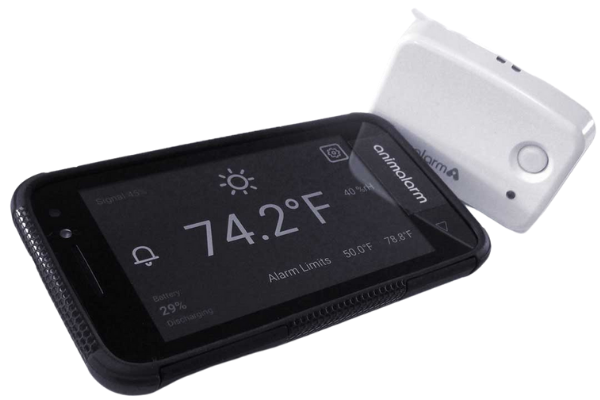 A smart lifestyle solution for you and your dog that sends warning notifications to your cell phone to alert you to the temperature in your vehicle.
Welcome To animalarm
Keep You and Your Dog Safe During the Summer Heat
P

Wireless temperature monitoring in any environment

P

One base station and one remote sensor included

P

Humidity sensor

P

Multiple location monitoring with up to 4 additional remote sensors connected via Bluetooth ($50.00 each)

P

Notification by text message or email

P

User can text animalarm at anytime for a real-time temperature status

P

Notification via text and email if loss of power or loss of signal occurs

P

Remote sensors have two replaceable AAAA battery

P

Base unit replaceable rechargeable battery with USB power adapter and car charger included

P

Choose between Celsius or Fahrenheit

P

Settable high and low threshold temperature

P

1 year Product Warranty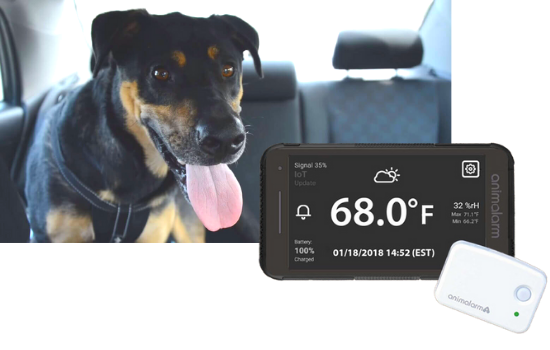 Z

1 Animalarm

Z

1 Remote Sensor

Z

12 Month Data Plan
Z

1 Animalarm

Z

1 Remote Sensor

Z

12 Month Data Plan
When you leave your pet, do you worry about the air temperature of the environment your pet is in? What if there is a power outage during a storm? Your pet's environment could quickly get very cold or very hot. The animalarm takes the guesswork and stress out of changing temperatures whatever the environment. This battery-operated temperature alarm has a multitude of uses from advising you of potentially dangerous temperatures when traveling with your pet or simply leaving them home alone while you are at work. No need to worry when you have the animalarm.
This ingenious product will notify multiple recipients, of your choosing, by text message and/or email message that the temperatures YOU preset have been exceeded. On reaching your trigger temperatures the animalarm will send a notification and on every increment of 1°C / 2°F beyond your trigger temperature. The unit will send you a message when the temperature is back within the temperature limits you set.
Frequently Asked Questions
How is air temperature measured?
Air temperature is measured in the shade and out of the wind or a draft. If you leave your animalarm in full sunlight it will probably give a higher reading than the actual air temperature.
Which cell phones are compatible with the animalarm?
The animalarm is compatible with all text-enabled cell phones.
How far away can I go and still receive a trigger temperature text or email?
The animalarm works on the cell phone network, both the animalarm and your cell phone must have a network signal to send and receive text alerts. Provided this is the case, there is therefore no limit on where you need to be to receive an alert.
How many users can be added to one animalarm?
There is no limit of users per animalarm. You can add, edit or delete users at any time using your animalarm portal.
How many Remotes Sensors can be added to one animalarm?
There is a maximum of 5 remote sensors per animalarm. These can be added, removed at any time on your portal.
When using multiple Remotes Sensors how can they be viewed on the base station screen?
To view the different temperatures simply touch the temperature on the screen, this will then display all of the connected remote sensor temperatures. The main temperature displayed on the screen is the highest of the remote sensors that you have connected.
How far away can I place a Remotes Sensor from the base station?
The remote sensors are connected to the base station by Bluetooth. With no obstacles or interference, such as walls, metal, vehicles, or trees the connection can be up to 50m. The more obstacles or interference there is the shorter the distance.
What does text for current temperature reading mean?
This 'Polling' facility allows any user to text your animalarm to receive an 'INFORMATION' text message stating the current temperature so that you will never be out of contact with your animalarm.
Can I download the User Manual?
Can I purchase a Data Plan at any time?
Yes, you can purchase a Data Plan at any time. If your plan has expired or you only use your animalarm over the summer you can renew your data plan when you are ready to use your animalarm. Purchase a USD Data Plan here.
What temperature should I set my animalarm to?
The animalarm has preset trigger temperatures at 10C/50F for the lower trigger and 26C/78F, these are the minimum and maximum temperatures recommended by vets for your dog. The trigger temperatures can be edited to your specific requirements at any time on your animalarm portal. For more information on the effects of heat on dogs please go to our Your Dog page.
How long is the Remote Sensor Battery life?
The Remote Sensor takes 2 x AAAA batteries, the average lifespan is 15months whilst the sensor is permanently switched on. If your base station loses connectivity to its Remote Sensor for no apparent reason it is likely that the batteries need replacing. It is recommended that if you do not use your animalarm for long periods of time that you switch off the remote sensor from the base station or remove the batteries.
Is my animalarm or remote sensor waterproof?
No, neither the animalarm base station nor remote sensors are waterproof.
Does my animalarm have a guarantee/warranty?
The animalarm comes with a 1 year manufacturer's warranty, please see the animalarm warranty for more information..
DISCLAIMER: Please refer to the information supplied at www.theanimalarm.com regarding the effect of temperature changes on animals in confined spaces but be aware these guidelines do not guarantee your pet's safety or wellbeing. Animaware Ltd. does not recommend leaving dogs or animals in vehicles and accepts no responsibility or liability for the welfare of any dog/animal. Using the animalarm is the responsibility of the owner, handler or carer and its use. Using the animalarm is not a guarantee of your animal's welfare and health. The terms set out in this notice do not affect your legal rights in relation to faulty or misdescribed products. Animaware Ltd. reserves the right to alter material or technical specifications without prior notice.